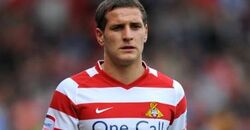 This is a list of Doncaster Rovers Football Club Transfer Records.
Record Signings
Edit
Record Fees
Edit
£2,000,000 Matthew Mills to Reading (August 2009)
£1,200,000 Richie Wellens to Leicester City (July 2009)
£310,000 Darren Moore to Bradford City (June 1997)
£275,000 Rufus Brevett to QPR (February 1992)
£200,000 Ian Snodin to Leeds United (June 1985)
£60,000 Paul Gilschrist to Southampton (March 1972)
£25,000 Harry Gregg to Manchester United (July 1957)
Ad blocker interference detected!
Wikia is a free-to-use site that makes money from advertising. We have a modified experience for viewers using ad blockers

Wikia is not accessible if you've made further modifications. Remove the custom ad blocker rule(s) and the page will load as expected.